Melasma Treatment in Garden City, NY
Melasma in Garden City, Long Island
Applied Aesthetic offers advanced cosmetic dermatology services to men and women located in New York. Led by board-certified Nurse Practitioner, Natalie Sharp, Applied Aesthetic is proud to offer cutting-edge minimally invasive and non-surgical dermatology treatments to residents of Long Island, Queens and New York City.
WHAT IS MELASMA?
Melasma is a common acquired skin disorder that presents as a bilateral, blotchy, brownish facial pigmentation. Melasma is most common in women that tan easily or have naturally brown skin. Typical age of onset is between 20 and 40 years. It is considered a photoaging disorder that results in the overproduction of melanin by melanocytes. Factors that contribute to its development are genetics, sun exposure, and hormones. It is often triggered by pregnancy or the use of oral contraceptives.
WHAT ARE TREATMENTS FOR MELASMA?
This is a condition that can be treated with topical medications and chemical peels. The best way to minimize it is to always wear sunscreen when exposed.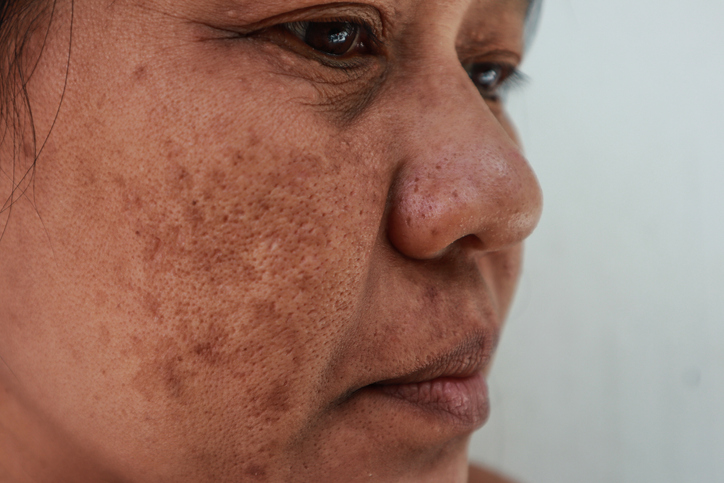 WHAT CAUSES MELASMA?
Factors implicated in the development of melasma include:
Family history — 60% report affected family members

Sun exposure — ultraviolet and visible light promote melanin production

Hormones — pregnancy and the use of oestrogen/progesterone-containing oral contraceptives, intrauterine devices, implants, and hormone replacement therapy, are implicated in one-quarter of affected women; thyroid disorders can be associated with melasma

Medications and scented products — new targeted therapies for cancer and perfumed soaps, toiletries, and cosmetics may cause a phototoxic reaction to trigger melasma

Researchers are examining the roles of stem cell, neural, vascular, and local hormonal factors in promoting melanocyte activation.
Applied Aesthetic provides men and women of New York with advanced cosmetic dermatology services. Located in the heart of Garden City, we serve Long Island, Queens and New York City. Contact us to schedule your consultation today.